Yo!
Mercredi soir de 20H à 21H
21 - It's Good For The Soul - 07-05-2008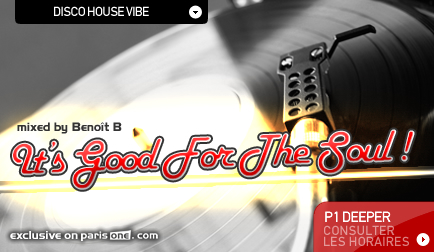 Playlist:

Kenny Thomas - Keep The Fires Burning (Dj Meme Club Mix) (Brunswick)
Marvin Gaye & Tammi Terell - Ain't No Montain High Enough (DFP Re-Edit) (Motown)
The Originals - Down To Love Town (Dim's Disco Citay Remix) (Ace)
Dj Fudge Feat. Mani Hoffman - Liv & Love (Sub-Urban)
Elaine & Ellen - The Look Of Love (Dim's Re-Edit) (Mercury)
Carrie Lucas - Dance With You (Solar)
Ann Nesby - Shelter (Vocal Mix) (God's House)
Gene Hunt feat. Robert Owens - Twilite People (Kenny Dope Remix) (Dope Wax)
Romanthony - Bring U Up (Black Male)
Clyde Alexander - Got To Get Your Love (Heavenly Star)

Suivi de "Deeper Vibes" avec Dj Polem à 21h et Guillaume Gautier à 22h ce soir c'est full vibe 20h => 23h
Bonne écoute et si vous desirez retrouvez l'emission :
http://benoit.beuwe.free.fr
@ bientôt
Ciao!!!